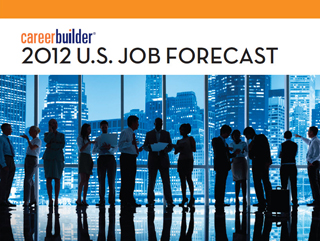 The hiring outlook for 2012 remains cautiously optimistic.  Employers expect to add new jobs in 2012, but are waiting to see how the economy shapes up before turning up the volume on hiring, according to the recent nationwide survey by CareerBuilder. 

Nearly one-in-four hiring managers plan to hire full-time, permanent employees in 2012, similar to 2011.  Employment trends among small businesses, which account for the majority of job creation in the U.S., are expected to show some improvement over last year.
According to Matt Ferguson, CEO of CareerBuilder, "Historically, our surveys have shown that employers are more conservative in their predictions than actual hiring.  Barring any major economic upsets, we expect 2012 to bring a better hiring picture than 2011 especially in the second half of the year.  Many companies have been operating lean and have already pushed productivity limits.  We're likely to see gradual improvements in hiring across categories as companies respond to increased market demands."
For this year's annual survey about the state of the job market and employment trends to keep an eye on, CareerBuilder surveyed over 3,000 hiring managers and human resource professionals across industries and company sizes.  Below are some excerpts from the 2012 U.S. Job Forecast.
4 Employment Trends to Watch for in 2012
1.  Compensation Getting More Competitive for Skilled Positions
Employers expect compensation levels to increase for both current staff and prospective employees as recruiting for skilled talent becomes more competitive.  Sixty-two percent of employers plan to increase compensation for their existing employee base while 32 percent will offer higher starting salaries for new employees.
Among functional areas where human resource managers anticipate there will be the greatest increases in compensation at their organizations in 2012 are those tied to revenue generation.
Sales – 24 percent of human resource managers
Information Technology – 20 percent of human resource managers
Engineering – 14 percent of human resource managers
Business Development – 14 percent of human resource managers
2.  Voluntary Turnover on the Rise
One-third (34 percent) of human resource managers reported that voluntary turnover at their organizations rose in 2011.  Employers pointed to the desire for higher compensation and feeling over-worked as the top two reasons employees gave for resigning.  Thirty percent of employers said they lost top performers to other organizations in 2011 and 43 percent stated they are concerned top talent may jump ship in the New Year.
3.  Employers Bridging the Skills Gap by Training Employed/Unemployed
There is an increasing number of areas where demand for skilled positions is growing much faster than supply, prompting employers to take "re-skilling" workers into their own hands.  Thirty-eight percent plan to train people who don't have experience in their particular industry and hire them for positions within their organizations in 2012.
4.  Employers Targeting Hispanic Workers, African American Workers and Women
Aware of the benefits diversity can bring to their organization, 29 percent of employers said they will be focused on recruiting diverse workers to expand their employee demographics.  One-in-five (20 percent) will be targeting Hispanic workers and African American workers to work for their organizations while the same number will be recruiting more women.  Forty-four percent plan to hire bilingual workers in 2012.