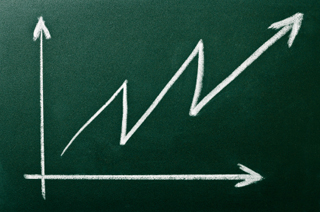 With all the concerns and challenges facing small business owners, it's easy to get distracted and spend all your time on the negative vs. the positive.  Control what you can and don't worry about the rest.  After all, there's not much you can do about it anyway.   Accept the fact that there are several high impact, high value things you can do, or control as the owner of your business.  Here are 5 ideas you should consider to improve your business's performance.
1. Social Media
Finding new customers and partners is both time consuming and costly.  Most small businesses are challenged in both areas relative to time and budget constraints.  However, there are some tools available that make increasing your presence in the marketplace quick and simple.  LinkedIn is a great tool for businesses of all sizes.  Every business professional should have a LinkedIn profile.  Building your LinkedIn profile is easy to do but requires some thought around how you'd like to position yourself within the public domain. 
2. Employee Recognition Programs
Whether you have 10 employees or 100, your people want to feel valued.  They want to know how they contribute to the company's success.  Every employee regardless of title, position, or list of responsibilities should have clear MBOs (Management by Objectives).  Furthermore, each employee MBOs should be aligned with a reward or incentive system.   Having the right employees is the key to every company's success.  Providing clear MBOs to the right employees increases the potential for achieving your desired business results.
3. Client Referral Programs
There's nothing more powerful and valuable to a business owner than a current client referral.   These referring clients are irreplaceable and present a significant source of new business.  While many clients are satisfied with a "thank you", some will feel that a bit of goodwill is appropriate.  The dollar amounts do not need to be large.  After all, you're not trying to buy their business but instead simply offering your sincere thanks.  A month free or a percentage off their bill are both great ways to thank them for sending new business your way.
4. Value Proposition Work
Develop a clear, consistent, and concise value proposition.  A statement or collection of statements that tell your story.  What you do, how you do it, and how it's of value to those who buy it.  Your value proposition needs to be simple.  It's not a marketing campaign but how you would tell others what you do if you were asked at a party, at the gym or at your child's sporting event.  Be able to articulate how your typical customer has benefited by working with your business.  "Our typical customer saved 20% last year", or "most of our customers grew their businesses by X% using our product".   Tell your story in a proud but factual way.
5. Lead Management
While many small businesses can't afford to invest in a lead management or CRM system, all businesses must manage and monitor their lead flow and performance.   Generating quality leads is a time consuming and costly activity for business owners.  Once a prospective new client is identified, it's important that the lead is logged and tracked.  You should know where every lead came from that you received (online, yellow pages, trusted advisor referral).   Additionally you should also track your close ratios by lead source so you can begin to understand various lead channels effectiveness ratios.  If you know that 60% of the leads you generate from your website end in a sale vs. 10% from direct mail activities, you'll most likely want to focus your marketing dollars and resources on improving your search engine optimization.