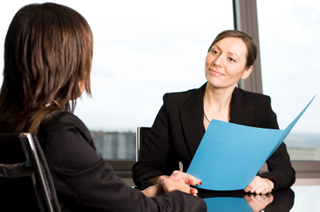 Last Tuesday we posted the article… 12 Job Interview Questions to Avoid… which was Part 2 in our series of Interview Do's and Don'ts.  Part 1 was a blog article on Inappropriate Job Interview Questions You Shouldn't Ask.  This is our last posting in this series… which includes 6 more discriminatory interview questions you should avoid asking job candidates and the acceptable alternatives you can ask instead. 

It's important when asking a job applicant questions during the interview process to determine if the questions you ask and the information you are seeking is really needed to evaluate the candidate's qualifications, skills and ability to meet the challenges of the job.  You should avoid asking questions that are not relevant to the performance of the essential functions, tasks and responsibilities of the position they are interviewing for.
Steer Clear of Discrimination Questions Related to Military Service and Pre-Existing Health Conditions
The Uniformed Services Employment and Reemployment Rights Act (USERRA) prohibits discrimination against a person on the basis of past military service, current military obligations, or intent to serve.  Many states also provide job-protected military leave. 
Inappropriate Questions:  Have you ever served in the United States Armed Forces?  If so, when, and what type of discharge did you receive... honorable or dishonorable?
Acceptable Alternative:  What skills, qualifications or experience did you gain during your military service that might be valuable in this position?
The Americans with Disabilities Act (ADA) prohibits employment discrimination against qualified individuals with disabilities, as well as persons who have a record of disability or are perceived as disabled.  The protection extends to all aspects of the hiring process and all other employment-related activities.
Inappropriate Questions:  How many days were you out sick last year?  Have you had a major illness in the last five years?
Acceptable Alternative:  How many days were you absent from work last year? 
NOTE:  Pre-employment questions about illness may not be asked, because they may reveal the existence of a disability. 
Inappropriate Questions:  Do you have any pre-existing health conditions?  Are you on any medication or prescription drugs?
Acceptable Alternative:  Can you perform the essential functions of the job with or without an accommodation? 
NOTE:  Questions about use of prescription drugs are not permitted before a conditional job offer because the answers to such questions might reveal the existence of certain disabilities which require prescribed medication.  The employer may want to give the job candidate a copy of the job description or describe the job functions to them, and indicate which job functions are essential to the position.
Never Ask an Applicant These Questions During a Job Interview
The following job interview questions rarely or never have acceptable alternatives.  These interview questions should be avoided unless they are sanctioned for the particular job you are filling by Federal, state or local employment laws.
Are you planning a family?

Do you have children? 

Have you made child care arrangements if you get this job? 

Do you have any medical problems (disabilities, etc.)? 

Have you ever been turned down for a job because of physical reasons? 

Do you have AIDS or any other infectious disease? 

Are you gay? 

What is your race?

What color is your hair (eyes, skin)? 

Have you ever brought a lawsuit against an employer? 

Have you ever filed for workers' compensation? 

Have you ever been sexually harassed? 

Are you married? 

How much do you weigh? 

Do you use drugs or alcohol?