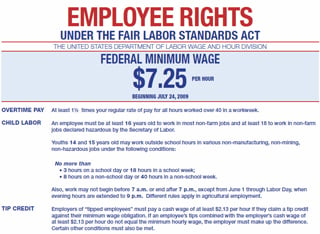 Every year, state and Federal agencies make hundreds of labor law changes that directly affect your employees.  These changes in regulations impact policies related to minimum wage, anti-discrimination, safety and health protection, child labor laws, workers' compensation and more.  Sometimes the updated government regulations require mandatory new labor law posters… and sometimes they don't.  Failure to display the required workplace posters can result in significant fines and penalties, along with jail time in some instances.  So how can you be sure the posters you have are the most current ones?
2011 Minimum Wage Rate Changes Require Updated Posters
The most common change that requires an updated labor law poster is when states change their minimum wage rates.  Several states increased their minimum wage rates in January 2011 including Arizona, Montana, Ohio and Washington… just to name a few.  And Florida unexpectedly increased their minimum wage rate to $7.31 effective June 1, 2011 which requires an updated labor law notice.  So if your business is located in one of those states, make sure your labor law posters are current and display the correct minimum wage rate.
Workplace Policy Changes: A Lot Can Happen in One Year
State minimum wage rate changes aren't the only reason government agencies mandate updated labor law posters.  Sometimes OSHA regulations change and updates to workers' compensation notices, earned income credit, unemployment compensation and discrimination policies require new workplace posters.  How can you tell if a labor law regulation change is mandatory or non-mandatory… meaning a new poster is not required?  If your labor law posters were purchased a year ago… prior to June of 2010… and your business is located in one of the following states and you have not received an updated poster, you are most likely out of compliance:
Automatic Compliance Updates Keep Your Labor Law Posters Current
The easiest way to make sure your business is compliant and displaying the most current labor law posters is to subscribe to a program which offers a combined Federal and state poster that automatically sends you updates when new notices are mandatory.  That way you don't have to stay on top of all the government changes and worry about what updates require a new poster.  It is taken care of for you.  All you have to do is replace the old poster when the new one arrives.