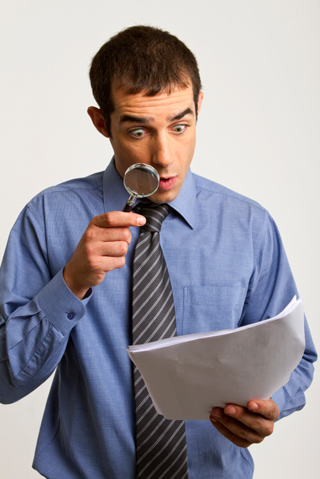 Employers must verify the identity and employment authorization of each person hired after November 6, 1986.  An I-9 form must be completed and retained for each employee.  Employers who violate the I-9 laws may face civil fines and criminal penalties. 

Fines for failing to comply with Form I-9 requirements range from $110 to $1,100 for each form.  Many of the mistakes made on I-9 forms can be avoided by following some tips from I-9 Central… the U.S. Citizenship and Immigration Services (USCIS) online resource to help employers understand and comply with the I-9 process.  Employers should review I-9 forms carefully immediately after completion to make sure they don't make these common mistakes.
Everyday Mistakes Employees Make When Completing Form I-9
Section 1 of Form I-9
Newly hired employees must complete and sign Section 1 of Form I-9 no later than the first day of work for pay.  Several errors employees make when filling out Section 1 include:
Not checking a box to indicate whether the employee is attesting to be a citizen or national of the United States, a lawful permanent resident, or an alien authorized to work until a specified date—or checking multiple boxes attesting to more than one of the above.
No "A" number (alien registration #) for an employee who selects "A Lawful Permanent Resident."
No employee signature or attestation date.
Common I-9 Mistakes Employers Should Avoid
Section 2 of Form I-9
Employers are responsible for completing Section 2 of Form I-9. Employers must physically examine the documentation presented and sign the form.  Some of the most common mistakes employers make when completing Section 2 include:
Not completing Section 2 by the third business day after the date the employee started work for pay, or, if the employee is hired for three business days or less, at the time the employee started work for pay.
No acceptable List A document or acceptable List B and List C documents recorded on the form.
No document title, issuing authority, number(s) or expiration date for the documentation presented.
Section 3 of Form I-9 
Employers may complete Section 3 of Form I-9 when an employee's employment authorization or documentation of employment authorization has expired, an employee is rehired within three years of the date that Form I-9 was originally completed or when an employee changes his or her name.  The USCIS recommends that employers remind employees, at least 90 days before the date reverification is required.
Frequent oversights employers make when completing Section 3 include:
No document title, number or expiration date for the acceptable documentation presented.
No date of rehire, if applicable.
No employer signature or date.
View the Complete List of Common Mistakes Every Employer Needs to Avoid
Tips for Understanding & Complying With the I-9 Process
The I-9 Central website provides employers with enhanced, easy-to-access guidance for understanding and complying with the Form I-9 process, including sections that discuss:
I-9 Central also provides guidance on how to correct I-9 errors, worksheets for calculating how long to keep an employee's I-9 form and tips for what employers should do if an employee provides documentation that does not appear to be genuine. 
Tuesday's blog posting will answer some of the most frequently asked questions regarding the I-9 process, acceptable documentation and how to handle mistakes discovered during an I-9 self audit.