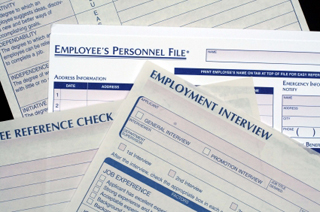 Periodically we'll pose an HR, payroll, benefits or employee compliance question in our blog postings we think our readers might find valuable.  The following question recently came from one of our clients.  The answer has been provided by an outside human resource and benefits expert.

QUESTION:
Where and for how long should an employer maintain background check results?
ANSWER:
Typically, employers have a couple of choices as it relates to the retention of pre-employment background checks.  There is no absolute requirement that background checks be retained if the applicant is hired, and some employers will destroy the background checks once the employee is hired for privacy reasons.  Other employers choose to retain the background check information, and the best practice recommendation for maintaining pre-employment background checks and authorizations is to keep these records in a separate confidential file apart from the personnel file.  The information that follows is the Federal records retention requirements.  Employers should also check the state retention rules and retain the records for the longer time period. 
For applicants not hired, these records should be maintained for a period of one (1) to two (2) years, depending upon the organization's size and whether any executive orders or affirmative action statutes apply.
For applicants who become employees, the retention requirement is to retain these documents for six (6) years after termination.  If there is any type of legal or regulatory action impacting the former employee, the records should be retained until the employment action is resolved.
In the HR Q&A section of the Society for Human Resource Management (SHRM) website, the article… Personnel Files: Record Retention: What are the Federal Record Retention Requirements for Employers? elaborates on this topic further and discusses in detail how long files and documents should be kept relating to:
Federal Tax and Compensation Records
Employment Actions
The Uniform Guidelines on Employee Selection Procedures
Benefits, Health and Safety and Related Matters
Terminated Employee Files