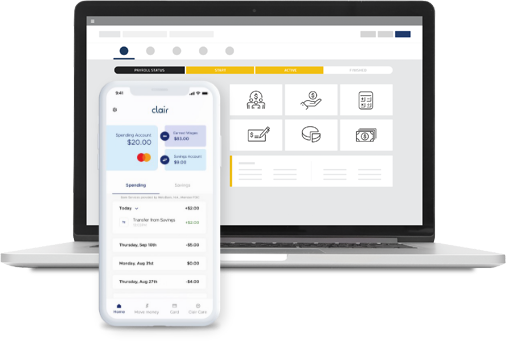 PAYROLL-CONNECTED
On-Demand Pay
Offer financial wellness benefits to employees at no cost or lift to you.
Offer Pay When Employees Need It
We've partnered with Clair to extend on-demand pay to clients at no cost. Clair is connected to PrimePay's payroll and HR platform, streamlining instant earned wage access without disrupting working capital or payroll administration.
Financial Wellness in the Workplace Matters
Increase in Job Satisfaction
Of Employees Using Flexible Pay Opt to Pick up More Shifts
How it Works: 
For Employees
Step 1: Sign Up
Create a Clair account & update direct deposit to unlock flexible access to earnings.
Step 2: Advance
Instantly take a wage advance after every shift to access a portion of earnings early for free.
Step 3: Spend
Spend earnings anywhere with a physical or virtual debit card.
Step 4: Repay
When payday hits, Clair will collect any advances taken.
PrimePay's On-Demand Pay by Clair vs. Others
Features & Benefits
Payroll-Connected
Fee-Free Wage Advances
FDIC Insured Accounts with Bank Grade Security
No Fee Withdrawals
Free Domestic Transfers
No Subscription Fees
Virtual Card
But there's more…
No need to input manual wage deductions or worry about cashflow changes
Employees get access to their earnings at no cost
Spending and savings accounts that guarantee employee's personal information is protected at all times
Clair Debit Mastercard® has no-fee withdrawals at 40,000 ATMs
Domestic Transfers via ACH to other banks at no cost
No fees on monthly membership, maintenance, inactivity, or minimum maintaining balances
Apple Pay, Samsung Pay, and Google Pay Nationwide
PrimePay+Clair                Others
| | |
| --- | --- |
| | Needs payroll integration, file transfers, and more. |
| | Charge a fee per advance |
| | Not partnered with a federally registered bank |
| | Limited or no ATM networks |
| | Fee to transfer to other bank account |
|   | Charges monthly membership fees or transaction fees |
| | No virtual card available |
Why Our Clients Love PrimePay
Read how a professional services PrimePay client utilized on-demand pay for employee retention.
Frequently Asked Questions
How does repayment work?
Process payroll as usual. Clair deducts advanced wages when the paycheck hits the employee's spending account.
How does Clair impact payroll?
Just like any other bank account, employees need to update their direct deposit in Payroll.
What about hour adjustments?
Clair takes the risk and will deduct the outstanding amount from the next pay cycle.
How about taxes and deductions?
Clair allows employees to advance up to 60% of their gross wages to ensure that so they don't over-advance.
What if an employee quits?
Clair takes all repayment risk and never passes it on to employers.
How do employees receive support?
Fill out the form to get started!
Employee Support
Employees can call +1 (888) HI-CLAIR (442-5247) or email support@getclair.com.
A 'Smile-Worthy' client experience extends beyond software and transactional support.
Our Happy Client Methodology blends purpose and passion to reinforce our mission:
"To make our clients smile every day through exceptional service."
This service model is built upon research, proven best practices, and continual improvement. Our top priority is to ensure that you begin and continue your journey with us – happy.